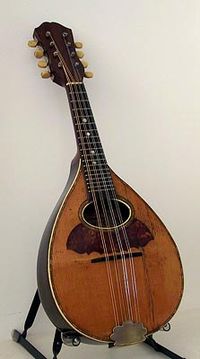 I purchased an Italian bowlback mandolin from my guitar professor for $150 bucks. It looks like the one on the left here. And, wow, what a fantastic sound! It's so much more open than my F-hole, electric/acoustic mandolin. I can't wait to use it on some recordings. Speaking of which... plans are underway to get more material recorded. But I'll save that for another post.
Since I purchased this mandolin, I'm looking to sell my Carlo Robelli archtop. I consigned with Sweetest Sounds right here in town... they're selling it for $199 with the case. Pretty sweet deal if you ask me. It's a gorgeous guitar, in great shape with fantastic action, so check it out.
Today is my first guitar lesson in a while. I'll actually be heading out in a few to get over there. And maybe, I might be able to get work giving more lessons. So if anyone wants guitar, piano, alto sax, or composition lessons, please let me know!
One more thing- Walmart is selling bikes for $79. No joke. I was going to get a membership at
3rd Ward
in Brooklyn just for the bike, but now I guess I don't have to. Unless, of course, I still want free coffee. As if I don't get enough of that already.